News #005: Jan/Feb 2020 festivals repertory round-up
Hong Kong in Rotterdam, 50th anniversary of Berlinale Forum, To Save and Project and much more
Hello and welcome to Rep Cinema International. Today's post is a bit different than the usual news report. I'm trying to look across the field of festivals in the first two months of the year to cover their programming of restorations and archival screenings. This is a selection of highlights.
Archival programs and retrospectives have long featured in some festivals, but I think it's fair to say they have been on the rise in recent years. These can be tied to new releases, wider trends in cinema, culture and the world itself, and for institutions they can help bridge special festival programming with year-round screening activities.
In the context of festival programming, a curious trend has emerged: premiere politics of film restorations. Speaking as a festival programmer myself, I've been subject to increasing responses like: "the UK/European/world premiere of the restoration has been promised to another festival". Perhaps this is a reaction to the relatively recent—historically speaking—increase in attention towards film restoration, with tags like *NEW 4K RESTORATION* becoming a selling point for audiences (…maybe??). While this is very much a positive development, when it intersects with festival programming wonk machinations like premiere policies—which filmmakers, producers and even festival people themselves say they don't like—it becomes a bit ridiculous.
All that said, below you'll find a wealth of inspiring programming which kicks off this year's festival bonanza. And that's really all it takes to keep us going!
---
MoMA's To Save and Project: International Festival of Film Restoration (New York, Jan 4–31)
Each year kicks off with To Save and Project and I always eagerly await the lineup which usually gets announced in November. This year was the festival's 17th edition, and it's one of an increasing number of festivals internationally focusing on film archiving and restoration, showcasing cinema classics in newly-remastered editions, obscurities that complicate our notions of world cinema history, and all other sort of avant-garde, home movie and orphan film goodness.
It's impossible to condense the festival's 22-program lineup in this space, but typically for the festival it's an impressive panorama of not only film histories but also international archives. There's a really fascinating-looking 1970s Thai film restored by the country's Film Archive (Public Organization), two silent-era films restored by the NFSA and directed/produced the McDonagh sisters of Sydney, an apparently-radiant 35mm restoration of Roger Corman's The Masque of Red Death (1964) by the Academy Film Archive and The Film Foundation, and an award-winning restoration of Ecstasy (Gustav Machatý, 1933) by the Czech National Film Archive.
There was a particular focus this year on home movies, reflected in the accompanying Home Movie Weekend—also an addendum to MoMA's home movie museum exhibition Private Lives Public Spaces, on view through July. Home Movie Weekend included three programs organized by founders of the Center for Home Movies featuring amateur films from the National Film Registry, including an all-time personal favorite, Multiple SIDosis (Sid Lavernts, 1970, US, embedded below).
There was also a rare screening of films from the Navajo Film Themselves project, in which "six Diné (Navajo) students in Pine Springs, Arizona, learned 16mm filmmaking from communications professor Sol Worth and anthropologist John Adair [who instructed them] to film themselves and their culture 'as they saw fit'". This was one of the first indigenous media projects and those interested in this era of visual anthropology would be recommended to look further into the work of Sol Worth and Jay Ruby.
Finally, there's a good interview by Vikram Murthi with To Save and Project curator Dave Kehr at Hyperallergic, giving much background to curatorial decisions and process.
London Short Film Festival (Jan 10–19)
This year's London Short Film Festival was a wealth of repertory programming, as was discussed my interview with Tom Grimshaw, Jenna Roberts and Miranda Mungai last month.
Kustendorf Film and Music Festival (Jan 13–18)
This Serbian festival devoted a short retrospective to Puriša Đorđević, born in 1924 and hailed as "the oldest active Serbian film director and screenwriter." Wow!
Festival Premiers Plans d'Angers (Jan 17–26)
I wasn't so aware of this festival before researching but I'm glad it's now on my radar because they've pulled off some very impressive retrospective programming. To start off, Sicilia! is "a journey to the Mediterranean's biggest island and its rich and fascinating life in film". The selection runs from 1952–2019 and includes Vittorio de Seta's chronicle of peasant life Il Mondo Perduto (1959), Kim Longinotto's widely-hailed 2019 documentary Shooting the Mafia, the requisite Coppola, Antonioni, Rosa and Visconti classics one would expect, along plenty of lesser-known titles.
From Our Correspondent wraps together cinematic depictions of journalism, uniting Buster Keaton, Dario Argento and Ron Burgundy alongside Margarethe von Trotta and Laura Poitras. The festival held retrospectives of French documentarians Raymon Depardon and Claudine Nougaret and Hungarian auteur Béla Tarr, produced "in association with Carlotta Films, which will release five of its titles in [presumably French] theatres from 12 February 2020."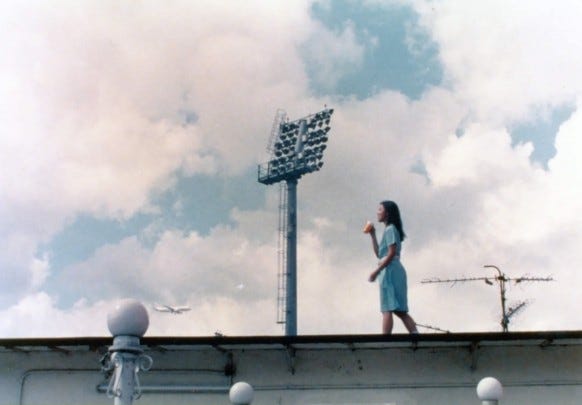 International Film Festival Rotterdam (Jan 22–Feb 2)
IFFR is almost too big of a festival. Wow, it's overwhelming. I was privileged to attend this year as festival press and thus a fair amount of my time was spent diving headfirst into IFFR Sessions and the Tiger Shorts Competition. I did get to see a few repertory gems, but I'll start off with some press highlights of IFFR's curated offerings.
The festival devoted a section to New York no wave pioneer Beth B, titled Beth B: War is Never Over and structured around her new feature documentary Lydia Lunch—The War is Never Over (2019, US). Alongside works from across her filmography, she selected a woman-focused collection of works by Chantal Akerman, Lizzie Borden, Bette Gordon, Barbara Hammer, Sally Potter and lesser-known but equally innovative artists like Tina L'Hotsky and Tessa Hughes-Freeland. Forest Cardamenis, writing for Hyperallergic, found that, "Aside from bringing overdue recognition to Beth B herself, the lineup allows viewers to appreciate No Wave for its vital contributions to art, music, and independent film."
Ordinary Heroes: Made in Hong Kong was curated for IFFR by critic Shelly Kraicer to show what "Hong Kong, the most cinematic city in the world, reveals through its films—old and new—the political, social and economic tensions tearing it apart today." The selection is quite wide, drawing in Shaw Brothers, arthouse filmmakers like Ann Hui, genre cinema, artist moving image and protest film. Writing for the IFFR Blog, Kraicer argues:
"As one of the primary vehicles for the foundation, development and expression of Hong Kong's special, complex modern (and late-modern or let's call it even post-modern) identities, Hong Kong cinema is uniquely valuable as an art form and an industrial practice that can teach us what the city thinks, and allow us to experience how it feels."
Writing for Mubi Notebook, Sean Gilman notes that the series "is not just structured by ideas, saying 'these are a bunch of movies that show social problems in Hong Kong over the past 50 years,' it's also, and perhaps even primarily, one structured by images. Again and again moments and pieces of these archival films will recur in the contemporary movies, echoes of the past taking on new meanings in the present." Artist and programmer Hind Mezaina called the older titles in the series "the highlight of my festival."
Two final picks from my own viewing: Henri Plaat's The Strange But Unknown Star (1969, Netherlands), an inscrutably beautiful little oddity restored by the Eye Filmmuseum and shown in a DINAMO screening; and Adriaan Ditvoorst's Carna (also 1969, Netherlands), an extremely rare 35mm print of a lively short documentary shown as part of a daylong event organized by the collective of European independent cinemas called Kino Climates.
Solothurn Film Festival (Jan 22–29)
I'm now finding out that the Patricia Moraz series at the Cinémathèque suisse that I mentioned in last week's newsletter was a collaboration with the Solothurn Film Festival, where the series was called "Patricia Moraz, Christine Pascal et Paule Muret – Les copines font leur cinéma." This focus is on "a small cell of writers, directors, producers and actresses formed in French-speaking Switzerland for a limited time and [who] were to become pioneers of New Swiss cinema." Though I'm a bit confused by the structure of SFF's Histoires du cinéma suisse section and the dates of films being unlisted, there's something special going on here.
Sundance Film Festival (Park City, US, Jan 23–Feb 2)
The festival's From the Collection strand featured two new restorations of past Sundance selections: High Art (Lisa Cholodenko, 1998, US) and Born Into Brothels (Zana Briski & Ross Kauffman, 2004, US/India).
Göteborg Film Festival (Jan 24–Feb 3)
There's sort of no way to directly link to GFF's Classics strand, so you need to go to this page and scroll down. Out of the seven programs, the one I'm most interested in knowing more about is Georgia, Georgia (Stig Björkman, 1972, Sweden/US), an American co-production with screenplay by Maya Angelou.
DocPoint — Helsinki Documentary Film Festival (Jan 27–Feb 2)
Thanks to Minou Norouzi for pointing out DocPoint in Helsinki and their special programs on Finnish doc history. There was a focus on the essay films of Antti Peippo and as well a 1927 feature documentary Among Wild Birds (Heikki Aho & Björn Soldan). Neither were screened with subtitles which is sometimes how these things go at festivals showing local work, but I'd think that the Antti Peippo films in particular would be interesting to some outside of Finland as well.
Clermont-Ferrand International Short Film Festival (Jan 31–Feb 8)
Four little short films caught my eye while looking through Clermont-Ferrand. As part of the strand Rural Ways, La gaveuse (The Force-Feeder, Alain Cavalier, 1991, France) shows how "the sweet Mrs. Bouillon [ed.–omg, that name] methodically force-feeds, slaughters and eviscerates her geese with spine-chilling rigor and precision." It's part of Cavalier's fascinating Portraits series, which the filmmaker has put on YouTube, but I can't bring myself to watch this episode.
A program in the African Perspectives strand also features some classic African shorts by Moustapha Alassane, Djibril Diop Mambéty and Idrissa Ouedraogo which are all from the Institut français collection.
Final Girls Berlin Film Festival (Feb 6–9)
February in Berlin? Before you get to the big festival you've got a solid weekend of female-fronted horror. The festival's Saturday late night screening was a double-header of American woman-directed cult favorites. Sarah Jacobson's I Was a Teenage Serial Killer (1993)—available on DCP from AGFA—preceded Amy Holden Jones' Slumber Party Massacre (1982), presented in collaboration with Glasgow's Matchbox Cineclub.
Big Sky Documentary Film Festival (Missoula, US, Feb 14–23)
Big Sky will hold a retrospective of Stephen Bognar & Julia Reichert, the American documentary filmmakers whose 2019 Netflix-released film American Factory won the Best Documentary Feature at some award show last weekend. The series stretches back to Growing Up Female (Julia Reichert & Jim Klein, 1971), which the festival describes: "Widely used to help explain feminism to a skeptical society, [the film] shows how much has changed––and how much remains the same."
Berlinale (Feb 20–Mar 1)
The big story is Forum 50, the 50th anniversary program as part of this year's Berlinale Forum. In addition to the new selections of films from 2019–20, Forum includes every film screened the first edition in 1971. It's impressive to scroll through and see Harun Farocki, Nagisa Oshima and Med Hondo—among many other cinema heroes of a bygone age—alongside contemporary makers, even if it makes the overall selection quite male-heavy. Notable exceptions include, and are not limited to, Annie Tresgot (Algeria), Helena Lumberas (Spain), Helke Sander (Germany) and the collective production The Woman's Film (1971). The Arsenal website for Forum 50 has extensive program notes for each film.
There's so much that could be said, but as I won't be able to attend, perhaps I'll leave it here and look forward to the reviews which are sure to come.
Endnotes
Images: Second Weaver (Alta Kahn, 1966, US) from Through Navajo Eyes; Il Mondo Perduto (Vittorio de Seta, 1959, Italy); Made in Hong Kong (Fruit Chan, 1997, Hong Kong); Les Indiens sont encore loin (Patricia Moraz, 1977, Switzerland); production photo from La gaveuse (Alain Cavalier, 1991, France); WR: Mysteries of the Organism (Dušan Makavejev, 1971, Yugoslavia/West Germany).

Rep Music International. Pass me the aux cable, I'm gonna give this a shot…
Thanks for reading! Subscribe to Rep Cinema International if you're coming to this from the website and please share with friends or colleagues if you find this useful. While the main channel is this Substack page, you can also find Rep Cinema International on Twitter @RepCinemaIntl, on Instagram @RepCinemas and in list form on Letterboxd.
Questions, comments or other inquiries: RepCinemaInternational@gmail.com.