Interview: Tom Grimshaw, Jenna Roberts & Miranda Mungai (London Short Film Festival)
Hello and welcome to Rep Cinema International. An important part of this publication will be interviews with programmers, archivists, distributors and many more—people who help repertory and archival films to the screen. These will be posted each Friday.
I spoke with Tom Grimshaw, Jenna Roberts and Miranda Mungai of the London Short Film Festival, which is wrapping up its 17th edition this weekend. I've admired the festival since attending for the first time in 2015. LSFF is quite obviously a collection of many different peoples' voices and that's one of its strengths. They find a way to include many different exciting themes and forms of short filmmaking, and place equal weight between new shorts and archival, curated and research-driven programming. I'm also happy to start the series of interviews with some programmers who are newer to the field and hear their perspectives of working over the past few years.
---
Could you introduce yourselves, tell me a bit about your past work and how long you've worked with the festival?
Tom Grimshaw (TG): I'm Tom Grimshaw and I'm the Senior Programmer for the festival. I've been working on and off with the festival for eight or nine years but as a programmer for six. Originally, like a lot of people who work in the film world, I started off by wanting to be a filmmaker. After doing the MA in documentary filmmaking, I completely lost interest in that. I'm quite a solitary person and like working independently and enjoy research, and that naturally led on to curation and programming.
Jenna Roberts (JR): I'm Jenna Roberts, Marketing Manager at the festival. I contribute programming-wise at the idea stage, and this year Miranda and I curated the Public Intimacies strand, and put together the Industry Programme and workshops. I'm quite new to programming—though I have a lot of marketing experience—and have been working with the festival for four years. 
Miranda Mungai (MM): I'm Miranda Mungai and I've been working at the festival for two years as the Documentary Programmer and Industry Events Producer, which I do alongside Jenna as well. I'd been working as a runner for various shitty jobs in the film industry since I was about 16. When I was going to university, I decided the film industry was shit. I was going to all these panels with these really self-satisfied white men saying, "if you want to make it, you've got to work for free." I put that in the bin and focused on my studies, left university and worked in various arts institutions (which were also shit). Then I found LSFF and have been programming ever since.
For those who might not be familiar, could you give us some background on the London Short Film Festival?
JR: London Short Film Festival has been running for 17 years. It was originally run as a video club and started out showing the work of filmmaker friends. Kind of a DIY monthly event. It's changed shape since then. Over the years I've been involved, we've been trying to push it toward an experimental-leaning festival but also bridging towards a mainstream sensibility as well.
TG: It was originally called the Halloween Society, though it had nothing to do with Halloween, it was just a name that stuck. Within the last five years, the festival has expanded more—especially internationally. In the past it was very UK-specific and now we have an international competition and international guests. I think our programming is generally a lot more global [today] than it once was, and that's a symptom of the festival team expanding.
What challenges and what opportunities are presented to you in orienting a festival wholly around short films?
MM: I got a feedback form yesterday in which people were unhappy that I'd organized things thematically. I think there's something about programming to fit a certain theme—putting various films together that somehow cohere to fill [a 90 minute program] is the biggest challenge. What audiences expect is completely unknown because so many people are unfamiliar with short films. They don't know what to expect.
JR: There is generally more accessibility to short films because they're shorter. They're easier to access in terms of emailing archives and getting access to works. Also, in terms of consuming them—it's easier to watch shorts both as a programmer and an audience member. I think you're right, Miranda, it's a real gamble for audiences in that there isn't anything for them to anchor onto in that these might not be genres of filmmakers which are known. As an audience member, you're really trusting the programming of it, and trusting us.
One of the types of programs the festival has done very well over the past years has been retrospectives of a filmmaker's short films. This year, it's Caroline Poggi & Jonathan Vinel, you've done a similar event with Jessica Sarah Rinland. That seems like a type of program that might be more attractive in the context of a short film festival.
TG: But that brings up another challenge, which is perhaps more to do with thematic and repertory programming. With a director, you might have a limited body of work. But with something thematic—like the ephemeral film program I worked on this year—you can end up in a rabbit-hole. The series was researched over four months, on and off, and there were 400 films that I watched in order to put it together. It can be quite hard, with short films, to know when to stop. You can just keep consuming.
What space or function does repertory and archival programming occupy within the festival's program as a whole?
TG: It gives us our identity. About five years ago, we were very defined the New Shorts section. The festival was set up as the central UK space for new filmmakers to get their films screened and meet. That still exists but most of our time is geared around the artist retrospectives and repertory programming, though I think we have a nice balance between repertory and new work.
MM: I think it's lovely that at LSFF we can make a program that stemmed from Shigeko Kubota's My Father but then bring in Onyeka Igwe and Julia Mellen, which are completely contradictory in era and style. But there's a place where you can bring them together in a program itself, not only in the broader program.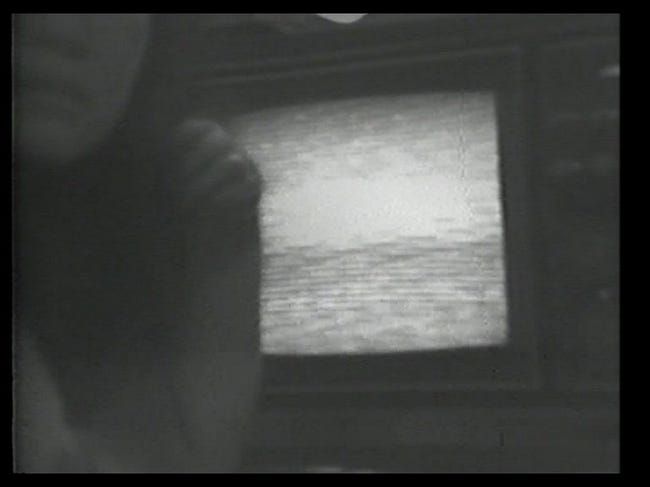 Could you explain more about that series (Public Intimacies) series you've put together?
MM: The starting point was Shigeko Kubota's My Father (1975, Japan/US) and that got us thinking about the video diary format, specifically women diarizing and the performativity that is added on top of that when you've elected to film yourself. You're anticipating a spectator instead of keeping a diary at home. Even in the literary tradition, women's diaries were considered frivolous and personal works as opposed to men's diaries like Samuel Pepys, which you might consider "official documents." Maybe it was also about how women then self-moderate their voice when they are talking aloud. What I liked so much about My Father is that Kubota is refusing to moderate her voice on many, many fronts in that it is just twelve minutes of a man dying and a woman crying. It's very uncomfortable viewing. For me, that was the starting point and then Jenna and I came together to chat about it and bring in different things together. It became a whole strand about not just video diaries anymore but about auto-ethnography, or just about women talking.
We focused our starting point on the short film program but we made a decision that we're not going to show [the classic video diarists] like Sadie Benning. We looked around for more films that were not made by white women of privilege and it started to become difficult. When you move out of that position of privilege, there's a completely different interaction… with the spectator in the video diary form. This led me to Profession: Documentarist (2014)—ironically a feature—which is a collaborative film by seven Iranian documentary filmmakers who work in vignettes. We see them each in their home space, talking about their personal life but also talking about what it means to be a woman making films in Iran. And the difficulties that come out of that but also the sense of freedom that comes from making cinema. We thought it would be nice to start with shorts and end with something to round it all off and a collective film we thought would be perfect way to do that.
We also teamed up with Jemma Desai to offer a workshop that could contextualize what we're showing. Both of us would like to make these films as accessible as possible and exciting as possible. So we've invited Jemma along to offer some well thought-out commentary.
JR: We wanted to contextualize the form of it across generations of women video artists. Obviously [the work] is not anticipatory but you could see the form between Shigeko Kubota and Ximena Cuevas, for example. And how the shift to the way we're now all self-documenting, and it's very easy and common to do that, has changed our conception of ourselves. But how that becomes transactional—and that isn't there in those original video diaries.
There's also plenty of fun work across the series. Another thing we've picked up is people articulating themselves through various pop cultural tropes. The Martine Syms is certainly about that, about processing images, especially images of women. And that ties back to Kubota's video, how she shows a television at her father's bedside with go-go dancers who are almost like another family member at the sick bed. Pop culture is this really interesting theme which we all use to define ourselves and it runs through all of the work.
It's exciting that one film can bring about this whole project and your way of thinking through lots of different work. Tom, what was the genesis of your ephemeral film series This is a Public Service Announcement?
TG: I read an interview with the German filmmaker Sylvia Schedelbauer, who is good friends with Rick Prelinger and mentioned the Prelinger Archives within the interview. I ended up in a rabbit-hole watching many of these ephemeral films. What struck me was that these films were almost completely anonymous[ly made]. They don't have directors or screenwriters, they're just attributed to Proctor & Gable or The National Dairy Board and they have these anonymous qualities to them.
I thought these films were a fun and interesting way to explore a very important period in American history. They tell you so much about the prejudices and desires of all of America coming out of the Second World War and dealing with the Cold War as well. I thought this would be a really fun program as there's a lot of diverse materials in there. For example, the American Nightmare program looked at the way corporate or political ideology was supplemented into weird, fun, almost innocuous films. There's this one called Carnivorous Plants (1955), made by the Moody Institute of Science, one of the largest producers of educational films for high schools. When you dig beneath the surface, you find the Moody Institute of Science was a group of evangelical Christians. They operated for 30 or 40 years, leaking Creationist propaganda into schools. I found so many little stories like that fascinating.
Could you talk about the festival engaging external programmers for repertory programs and what they might bring?
MM: There's such an openness at LSFF especially to ideas and concepts from people who might not have their feet in the industry proper. Last we were doing an industry events week and we were chatting with one of the volunteers, Faye Harvey. She was telling us about this documentary by a filmmaker called Kamal Aljafari which sounded fascinating. We were talking about that and it really excited me, so this year I pitched it on her behalf. Everyone was really excited about it and she worked to bring Kamal Aljafari to the festival and put together a zine as well.
The program is called Recollective Resistance and consists of two films by Aljafari which recognize the occupation in Palestine, how he's been affected it and how he's felt the identity of Palestinians erased. This is reflected in his filmmaking technique and it's exciting.
JR: He's using the form to highlight the literal aspect of erasure.
TG: The festival has a multitude of voices and I think that's probably the best thing about us. We have an incredibly democratic programming process. It might mean that the festival lacks a coherent thematic across its identity. But what will generally happen is that someone will have an idea, someone else will get another idea off that and that will link into something someone else is doing. It all fits together but we've always had this policy that it doesn't matter who you are in the festival, if you've got a good idea and can get it together within budget, that's great. There's not this hierarchy in that Phil [Ilson, LSFF Director] or me would impose our curatorial vision on someone else's program within the festival structure.
What are your recommendations for those who might be able to catch any programs in the final weekend of the festival?
JR: Public Intimacies!
TG: Of course. Also Flesh and Fluids. The way I've pitched it in my head is an experimental, alternative midnight movie screening that strips away any idea of metaphor and looks at flesh stripped bare, at life from the perspective of the flesh. It's got work by Gunvor Nelson, Carolee Schneeman's Fuses (1965, US, 16mm) and Stan Brakhage's The Act of Seeing with One's Own Eyes
JR: And the programs with Kamal Aljafari hosted by Faye Harvey. They're both taking place in one day, so you'll be able to immerse yourself in the conversation and work.
---
Endnotes
Thanks for reading Rep Cinema International and subscribe to get this newsletter directly sent to your inbox. While the main channel is Substack, you can find Rep Cinema International on Twitter @RepCinemaIntl and on Instagram @RepCinemas. I've also made a list of featured films on Letterboxd. Questions, comments or other inquiries: RepCinemaInternational@gmail.com.