News #004: This week's repertory report [upscaled to 4k, 60fps, re-sounded, colorized]
VOID animation festival, ICO/LUX's Second Sight, Valentine's Day shockers, Lumière deepfakes and one glorious buddy...
Hello and welcome to Rep Cinema International. This news report focuses on significant events, job opportunities, assorted links, news and ephemera related to repertory cinema around the world. This is a reflection of what I gather together looking around cinema websites, social media, through conversations and so on.
I'm very happy to get any tips—especially job listings related to film exhibition—you can find out how to get in touch at the bottom of this newsletter. And if you enjoy this newsletter and think others would, please share it!
---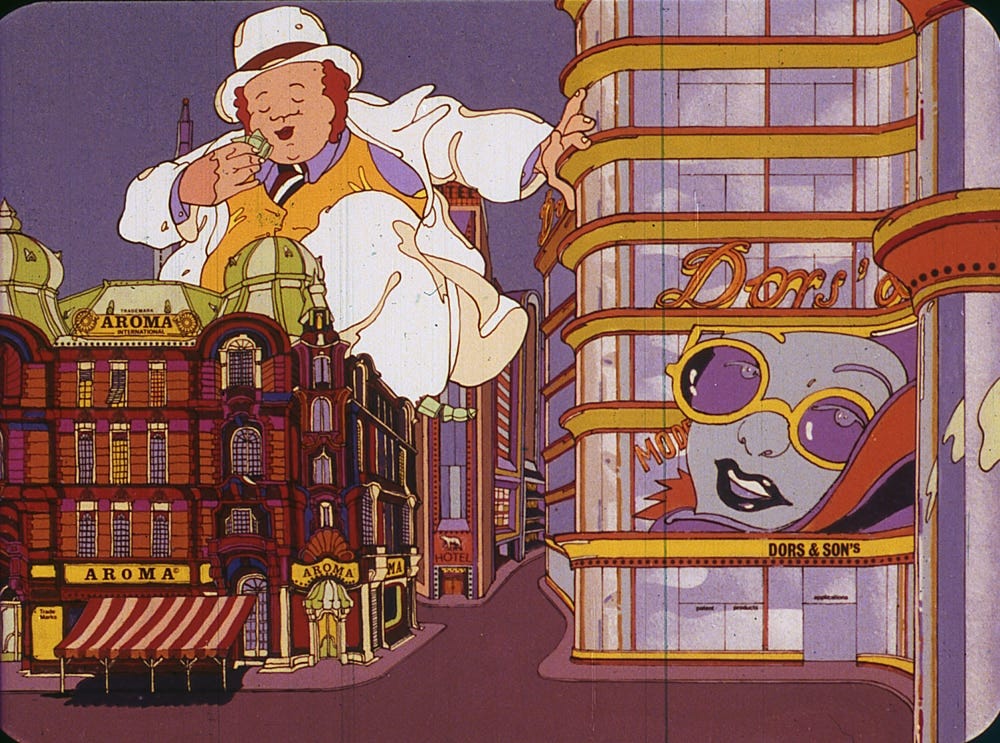 This week's repertory cinema highlights
VOID International Animation Film Festival Copenhagen
Somehow it can be really hard to see animation on the big screen. Especially the kind of animation I love: weird, experimental, abstract, gooey, maybe on film or in a good DCP. So I was pleasantly surprised to come across VOID, an international animation festival held at Cinemateket, the Danish Film Institute in Copenhagen.
The festival's 5th edition, wrapping up this weekend, has devoted retrospectives to two landmark animators, Sally Cruikshank and Suzan Pitt, both of whose works are being screened from 35mm restoration and archival prints from the Academy Film Archive. In addition to the newly-restored classic-in-the-making Son of the White Mare (Marcell Jankovics, 1981, Hungary)—a joint effort by Arbelos Films & the Hungarian National Film Archive (MNFA)—a screening of Hungarian animated shorts 1968–89 is an especially rare treat. The handful I've seen, including István Bányai's Gobble-Gobble (1977, image above) are very memorable.
Finally, cheers to whoever is writing their film copy. I've never heard of Wicked City (Yoshiaki Kawajiri, 1987, Japan) but with a description like "a pinnacle of 80's anime sleaze, Wicked City plays like a blood-soaked softcore exploration of deep, dark fantasies," how could I not be interested? Kudos.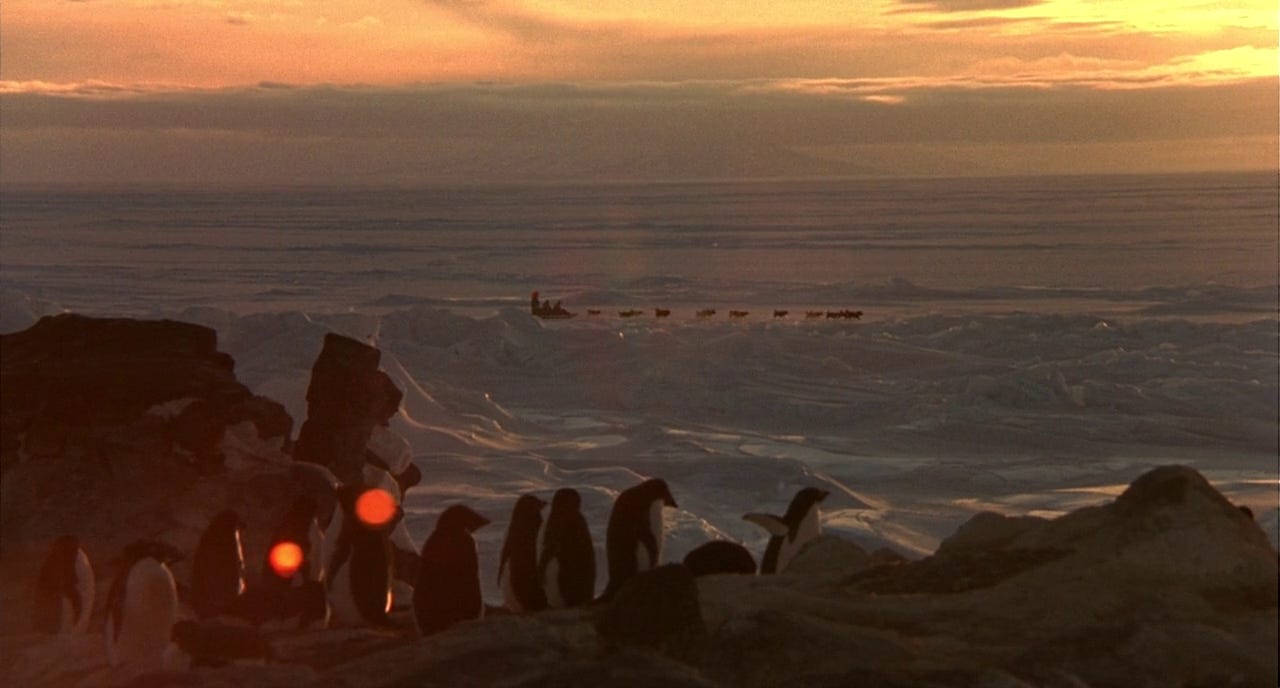 Antarctica at La Cinémathèque québécois (Montreal)
As part of their series Survies (Survivals), La Cinémathèque québécois screens a 35mm print of Koreyoshi Kurahara's Antarctica (1983, Japan). This is a film I've been curious about for a while after first seeing the excellent films in Criterion's Kurahara Eclipse set and the New York Film Festival focus on Nikkatsu in 2011. Perhaps it was a bit short-sighted on my part, but knowing that the claustrophobic, urban, jazzy '60s fistfight films of Kurahara would give way to working in the arctic landscape in Antarctica—and shortly before the seemingly straight nature doc The Glacier Fox (1978, amazing VHS cover)—came as quite a surprise.
This film was quite huge at the time, has a Vangelis soundtrack and was remade into the Disney film Eight Below (Frank Marshall, 2006) but I've never seen it listed as screening anywhere before. Maybe that means it's not that good, or maybe the potential of some dodgy animal practices cloud it, but to me that makes it something worth looking into. I know what I'll watch this weekend..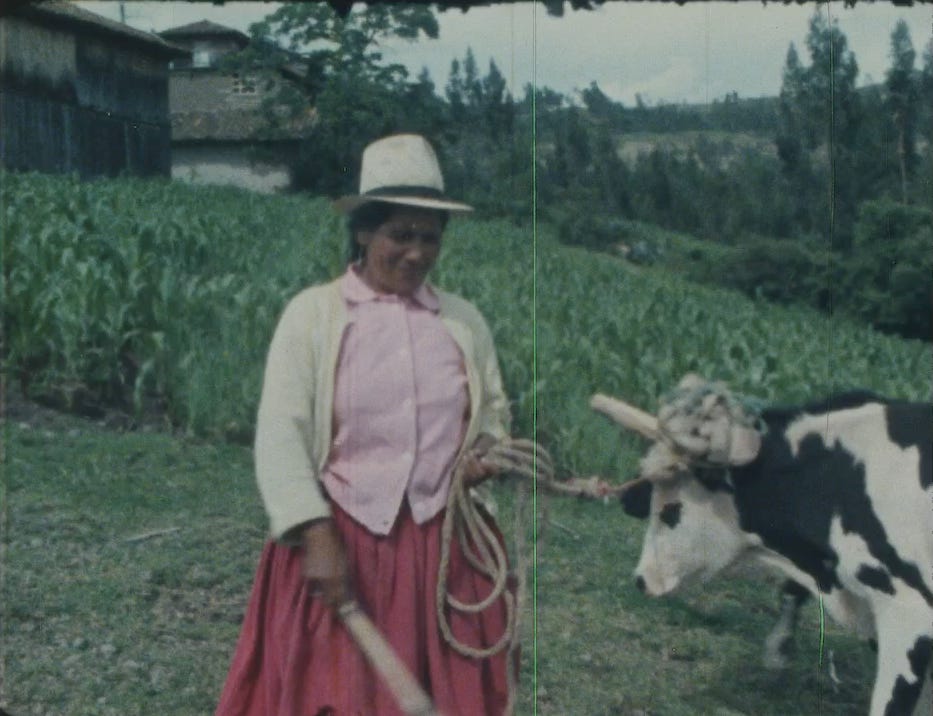 Short cuts
I feel heartened when researching what different cinemas are showing and seeing retrospectives of a good number of filmmakers I've never heard of before.
The Cinémathèque suisse (Lausanne) devotes a retrospective to Swiss filmmaker Patricia Moraz—who passed away in 2019—screening her two features as director, The Indians Are Still Far Away (1977) and The Lost Way (1980) and other films which she served as a screenwriter or producer, notably works by Werner Schroeter and Leos Carax.
Istanbul Modern's February cinema program consists of a retrospective of Turkish filmmaker Pelin Esmer, including seven documentary and fiction films she has directed since 2002.
The Cinemateca Nacional Ecuador (Quito) screens two retrospectives in February, the first on brothers Wilson & Sandino Burbano (Feb 13–16), both of whom studied at VGIK in Moscow in the early 1990s before making short and feature films in Ecuador. Some of their shorts can be found on YouTube.
A second retrospective collects documentaries made between 1983–91 by Mónica Vázquez (Feb 19–21) focusing on women, ecology, folk cultures, migration and the Ecuadorian diaspora. For example, Tiempo de mujeres (1985, image above) documents "Santa Rosa, a small town in Cuenca, [which] has been inhabited almost exclusively by women and children. The men have emigrated to the United States. Nostalgia for the absent is permanent. However, under the female leadership, the communal group survive by affirming their social sense, despite poverty." Anyone seen these? They look amazing. Let's get these films subtitled, circulated and screened.
🔪💔🎞️ Valentine's Day programming
I'm curious what repertory, classic, archival and special film showings venues are putting together for Valentine's Day 2020 and the many different directions that could take, from the calm and boring to the sexy, wild and silly.
I've made this thread on Substack where you can post what you're programming or attending. Please share!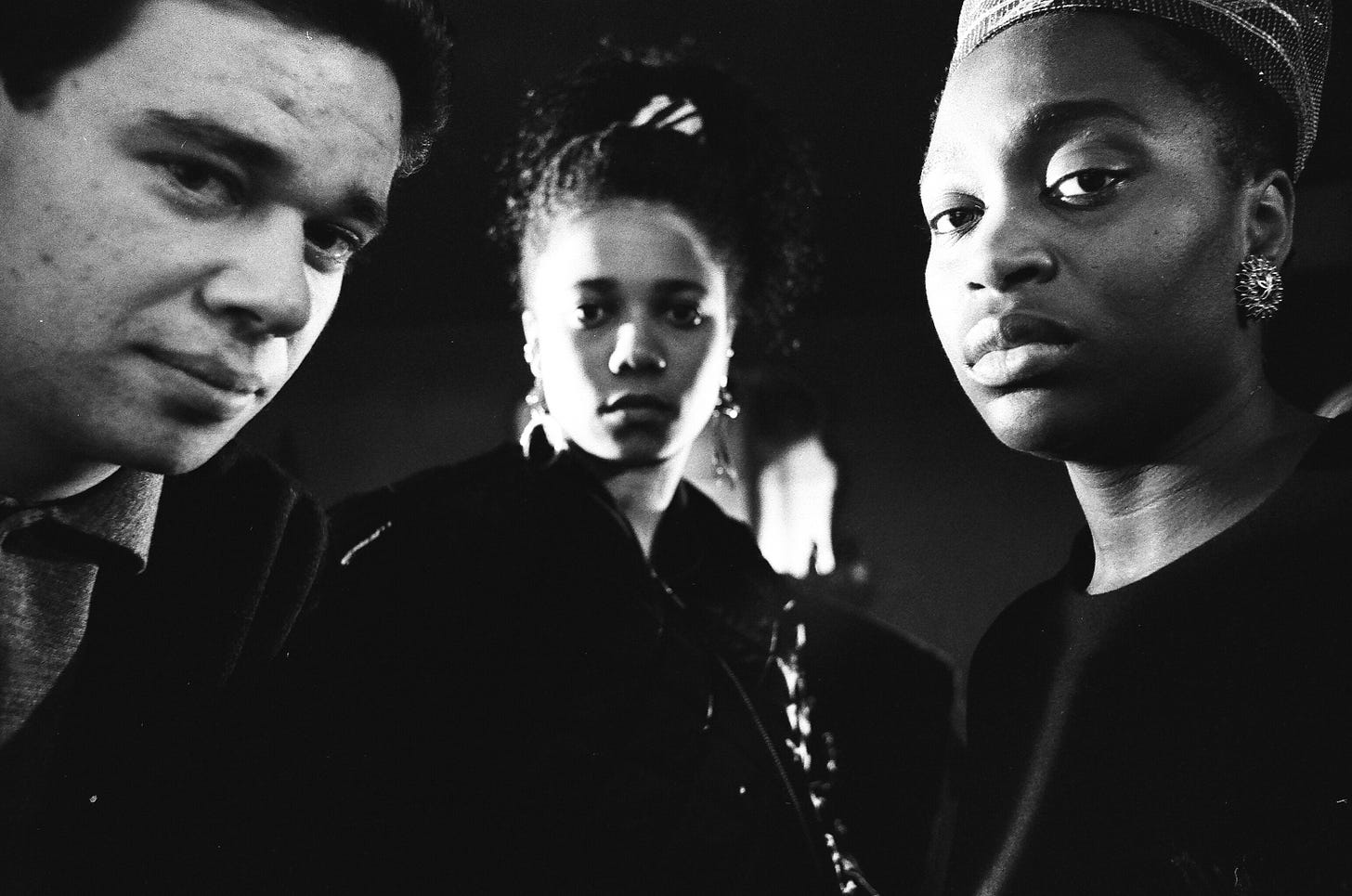 Distribution highlight: Second Sight (ICO/LUX Film Tour)
Second Sight is a UK film tour produced by the Independent Cinema Office and LUX celebrating the UK's Black Film Workshop movement in the 1980s and thinking about how these films, ways of working and ideas resonate with current audiences, makers and contexts. Given the rarity of the archival works made available, as well as the social, racial artistic and political issues they address, the series has the capacity to foster some urgent and powerful conversations around the films shown.
Second Sight is split into two sections: archival films and new commissions. Two archival films representing the work of Ceddo Film and Video Workshop—Milton Bryan's The People's Account (1985) and D. Elmina Davis' Omega Rising Women of Rastafari (1988)—and Martina Attille's Dreaming Rivers (1988, made as part of Sankofa Film and Video) are complemented by new short film commissions from four of the UK's most exciting moving image artists: Rehana Zaman, Morgan Quaintance, Ayo Akingbade and Onyeka Igwe/B.O.S.S. Collective.
The series premieres at Barbican Cinema (London) this month before touring across the country. All films are available on DCP, fees are low and the new commissions are available to book with audio description and SDH subtitles. Hopefully some critical writing and resources will be forthcoming, but this blog post from filmmaker Ayo Akingbade is a good place to start.
Contact: bookings@independentcinemaoffice.org.uk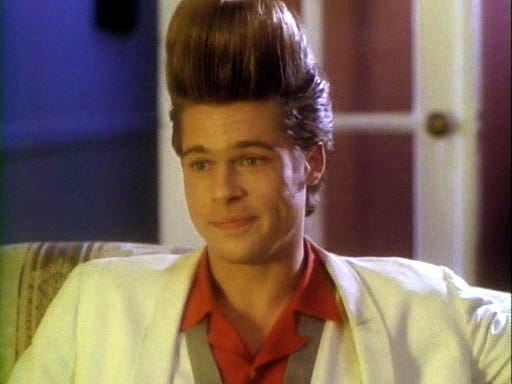 Best Film Series Title Award 🏆
…and the award goes to Stadtkino Basel for: Brad Pitt: Glorious Buddy
Actually insane…
A fella who calls himself "Denis Sexy IT" has created this weird, uncanny, waxy version of a familiar work of early cinema, put sound on it and "upscaled" it through the use of AI neural networks. There's lots of cringey comments on here and a related reddit thread about how "it's so real"(!!!) when, to me, it might feel "real" to some because of structural elements many people are used to at this point (for example, the 16:9 crop). Lumière deepfakes… I just wasn't ready.
I'm attempting to contain my snark as much as possible—this thread by @SlayerofCis lets it fly freely in a very satisfying way—but someone tipped me off to this measured response, perhaps another approach to consider.
London lamentation: disappearing 35mm?
Cinema Viewing
#38
of 2020:
Variety Lights (Federico Fellini and Alberto Lattuada, 1950) - 35mm
Before his solo debut The White Sheik, Fellini co-directed this marvellous backstage comedy about an impresario losing his heart, head and wallet to an ambitious showgirl. It's a wonderfully high-spirited film, full of great gags and hilarious ensemble work. Apparently it was so poorly received in 1950 it bankrupted Fellini and Lattuada's company, but I found it to be a delightful discovery.
But I don't want to talk about that. When the BFI's Fellini retrospective was announced it was another digital affair, following in the dismal footsteps of recent seasons devoted to Tarkovsky, Rohmer, Bergman and others. Variety Lights was later changed to 35mm because the new DCP wasn't ready (the BFI website actually apologised for this!) and so I bought a ticket. As it turns out, the print was in great shape - a little jittery in the first reel, but generally splendid - so why were we being fobbed off with a DCP in the first place? Why are we being asked to swallow the 'stunning 4k restoration' propaganda when there are excellent 35mm copies available? Why do films frequently play digitally at the BFI before showing up on prints later at the PCC and elsewhere? The gradual erosion of prints from our cinema experience is a serious issue and one the BFI should not be complicit in. We all need to hold them to a higher standard.
Today I noticed Amarcord has been changed to 35mm. I will now buy a ticket. Can anyone at the BFI see how this works?
Job listings
Opportunities
---
Endnotes
Featured images: Gobble-Gobble (István Bányai, 1977, Hungary) // Antarctica (Koreyoshi Kurahara, 1983, Japan) // Tiempo de mujeres (Mónica Vázquez, 1985, Ecuador) // Dreaming Rivers (Martina Attille, 1988, UK) // Johnny Suede (Tom DiCillo, 1991, US)

Coming next week: a roundup of repertory and archival film highlights from film festivals in January + February 2020.
Thanks for reading! Subscribe to Rep Cinema International if you're coming to this from the website and please share with friends or colleagues if you find this useful. While the main channel is this Substack page, you can also find Rep Cinema International on Twitter @RepCinemaIntl, on Instagram @RepCinemas and in list form on Letterboxd.
Questions, comments or other inquiries: RepCinemaInternational@gmail.com.